Source for the North
www.fishweb.com

Cross In The Woods


Indian River MI Map
Cheboygan Co. Michigan
Indian River Lodging
Indian River Weather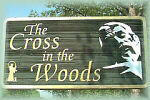 Rooms ~ Cabins ~ Homes


Welcome to the Worlds Largest Crucifixion (Click photos for larger view)
The Cross in the Woods Shrine

The shrine had it's origin in 1946 when Reverend Charles D. Brophy was inspired by the example of Blessed Kateri Tekakwitha. Kateri, also known as the Lily of the Mohawks, had a custom of placing crosses on trees in the forest as places to stop and pray.
The 55 foot high cross was made from an enormous Oregon redwood. It was erected in 1954. Sculptor Marshall M. Fredericks created a bronze, seven ton image of the crucified Jesus. It was raised into place in 1959.
Kateri, whose name means "moving all things before her," was born in 1656 near Auriesville, New York. Her mother was a Christian member of the Algonquin Indian nation and her father was a chief of the Mohawk tribe.
Kateri's favorite devotion was to fashion crosses out of sticks and place them throughout the woods. These crosses served as stations that reminded her to spend a moment in prayer. This unique act of devotion inspired Father Charles D. Brophy to recommend that the new Indian River Church be named after Kateri.

Shrine of Blessed Kateri Tekakwitha
Shrine of St. Francis of Assisi

St. Francis was born in 1181 in Assisi, Italy. He is one of the best known of all Saints. He is the patron of all who work for peace and justice. He is also patron of the environment and all who seek to preserve it.
Peace Prayer of St. Francis
Lord, make me an instrument of your peace. Where there is hatred, let me sow love. Where there is injury, pardon, Where there is doubt, faith, Where there is despair, hope, Where there is darkness, light, and where there is sadness, joy.
O Divine Master, grant that I may not so much seek to be consoled, as to console; To be understood, as to understand; to be loved as to love; For it is in giving that we receive, It is in pardoning that we are pardoned; and it is in dying that we are born to eternal life. Amen.
| | | |
| --- | --- | --- |
| | Cross In The Woods Tour | |
M.I. Advertisement Pricing
Indian River Lodging
Brentwood Lodging
Hometown Inn
Indian River Motel & Cabins
Power Sports
Burt Lake Marina