Source for the North
www.fishweb.com

Cross In The Woods


Indian River MI Map
Cheboygan Co. Michigan
Indian River Lodging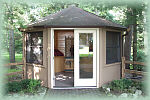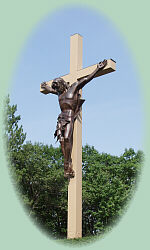 Welcome to the Worlds Largest Crucifixion (Click photos for larger view)
Shrine of St. Peregrine ~ The Cancer Saint

Prayer to St. Peregrine
"Dear St. Peregrine, I am in need of your help. I feel so uncertain of my life right now. This serious illness makes me long for a sign of God's love. Help me to imitate your enduring faith when you faced the challenge of cancer. Allow me to trust the Lord the way you did in this moment of distress. I want to be cured, but right now I ask God for the strength to beat the crosses in my life. I seek the power to proclaim God's presence in my life despite the hardship, anguish and fear I now experience. O glorious St. Peregrine, be an inspiration to me and all those who suffer from the disease of cancer. be for us the petitioner of these needed graces from God our loving Father. Amen.
Our Lady of the Highway ~ This statue of the madonna originally graced the front yard, near the highway. Later, we moved it to the lower grounds of the Shrine. She has been the patroness of millions of travelers and pilgrims who have visited the Cross in the Woods.
Prayer to our Lady of the Highway
"Our lady of the highway, be with us on our journey, for all your ways are beautiful and all your paths are peace. O God who with unspeakable providence does rule and govern the world, grant unto us, your servants, through the intercession of our watchful mother Mary, to be protected from all danger and brought safely to the end of our journey. Amen."

Our Lady of the Highway, Madonna Statue
The Stations
of the Cross
are nestled within the natural grace of a pine forest. The focal point of the garden, shown left, is the statue of the resurrected Jesus, the "fifteenth station" of this serene setting.
| | | |
| --- | --- | --- |
| | Cross In The Woods Tour | |
M.I. Advertisement Pricing
Indian River Lodging
Brentwood Lodging
Indian River Motel & Cabins
Power Sports
Burt Lake Marina