Source for the North
www.fishweb.com
MICHIGAN FISHING
South End
Cisco Lake Map
Cisco Lakes Chain Map
Gogebic County Map
Watersmeet Weather
South Channel Ent.
Latitude: N46° 13.899'
Longitude: W89° 26.571'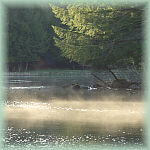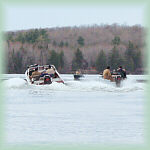 Cisco Lake, South End, Gogebic County Michigan

After you come out of the channel headed north into Cisco Lake you will enter the bay shown above. Cisco Lake is the first lake to warm up in the spring and the bay at the southern end is the first with weed cover. Pike, bass, perch, walleye and crappie will feed in this weedy bay. A slip bobber and minnow or leech will work well here. Troll crankbaits over the weeds for pike.
M.I. Advertisement Pricing