Source for the North
www.fishweb.com
MICHIGAN FISHING
Public Access Ramp
Mamie Lake Map
Cisco Lakes Chain Map
Gogebic County Map
Watersmeet Weather
Channel Entrance
Latitude: N46° 11.448'
Longitude: W89° 23.176'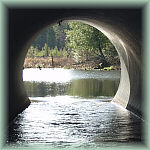 Mamie Lake, Public Access Ramp, Gogebic County Michigan

Access to Mamie lake is available off Thousand Island Lake Road on the south west side where Spring Creek enters Mamie Lake. From the water the GPS coordinates to the left will bring you to the river entrance shown top right. The channel runs 3 to 5 foot so I do not recommend any large boats. Dirt ramp, limited parking and no other facilities are available here.
M.I. Advertisement Pricing