Source for the North
www.fishweb.com
MICHIGAN FISHING
Public Boat Launch
Brevort Lake Map
Mackinac County Map
Moran Weather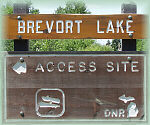 Channel Entrance
N45° 59.375' / W84° 52.728'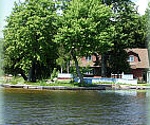 Brevort Lake, Public Boat Launch Mackinac County Michigan Fishing

On the south side of Dukes Road where it ends on Brevort Lake is a DNR Public Access Site. It is located in a small channel, Massey Creek, on the north side of Christensen Bay. Here there are two conceret ramps with a loading dock in the middle. There is ample parking for 35 riggs and vault toilets.
The loading area is deep enough for most size boats and is about 3 ½ foot deep in the shallowest part of the channel entrance.
M.I. Advertisement Pricing