Source for the North
www.fishweb.com
MICHIGAN FISHING
South Indian River
N45° 59.490' - W86° 17.313'
Indian Lake Map
Schoolcraft County Map
Manistique Weather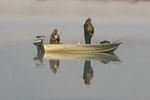 Indian Lake, S. Indian River, Schoolcraft County Michigan Fishing

In the far eastern bay of Indian Lake the Indian river flows out to join the Manistique River and into Lake Michigan. It flows under county road 440 and a small two lane bridge. In the bay just north off of Birch Road you will find a small ramp with a concrete pier next to the Bishop Baraga Shrine. I would recommend it only for small boats, 14' or less, as the water is shallow and the ramp narrow.
M.I. Advertisement Pricing