Source for the North
www.fishweb.com
MICHIGAN FISHING
Langes Bay
Indian Lake Map
Schoolcraft County Map
Manistique Weather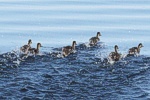 Indian Lake, Langes Bay, Schoolcraft County Michigan Fishing

Langes Bay at the north west end of Indian Lake, is a shallow mud flats with plenty of weed cover and emerging reeds. The area holds bass and panfish in good numbers. I like using top water baits on the edge of the reeds or along the north shore early morning when the water is still. Carolina rigged leaches or worms is also a good choice to work the weeds and shores. Try the edges of the deeper hole in the middle of the bay.
M.I. Advertisement Pricing