Source for the North
www.fishweb.com
MICHIGAN FISHING
South End
N45° 59.627' - W86° 17.533'
Indian Lake Map
Schoolcraft County Map
Manistique Weather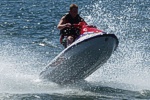 Indian Lake, South End, Schoolcraft County Michigan Fishing

I like the south end of Indian Lake where some of the deepest water runs up in fingers toward the western shore. My best results came running crawler harnesses slow around the drop at 12 feet, jigging leeches down the drops or on a slip bobber rig just over the heavy weeds. Line the point of Minor Beach due east and the west beach of the Indian Lake State Park camp ground due south and your in the area. There is lots of structure through out this zone holding a variety of fish.
M.I. Advertisement Pricing