Source for the North
www.fishweb.com
MICHIGAN FISHING
State Park Beach
Indian Lake Map
Schoolcraft County Map
Manistique Weather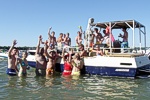 Indian Lake, State Park Beach, Schoolcraft County Michigan Fishing

Indian Lake State Park is located at the southern most end of Indian Lake off county road 442 about 4 miles west of Manistique. The park has a nice sandy beach and a marked off swim area with plenty of shallow water. Running along the shoreline is a paved hiking and bike path with benches and tables along the way to relax and enjoy the view. Also along the way are large shelters with fireplaces, grills, horse shoe pits, picnic tables and a nice boat launch. Great place to enjoy the day with family and friends.
M.I. Advertisement Pricing