Source for the North
www.fishweb.com
SLED THE WEB ™

MICHIGAN SLEDQUARTERS™

Gaylord Michigan
Snowmobile Trail Report
Snowmobile Trail Map
N.W.L. Michigan Trails
Otsego Co. Michigan
Northeast Lower Lodging
---
Beaver Creek Resort
SNOWMOBILE RENTAL
---

Buy Decals On-line

Trail Report By: Kevin of Benjamin's Beaver Creek Resort,
Gaylord Trail Report:
DATE: 9 DEC 2013
BASE:
PAST 24 Hrs: 4 inches
CONDITION: Almost there!
We got some more snow last night and the forecasters are calling for snow for the next seven days! As soon as the trails are ridable I will have a video up. The cold temps and snow should have us riding happily for the holiday. Check out our website for live snow cam and snow specials!
M.I. Advertisement Pricing
Reports Sponsored By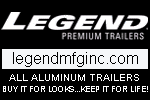 Gaylord Lodging
Beaver Creek Resort
Ray's Retreat Country Inn