Source for the North
www.fishweb.com
SLED THE WEB ™

MICHIGAN SLEDQUARTERS™

Gaylord Michigan
Snowmobile Trail Report
Snowmobile Trail Map
N.W.L. Michigan Trails
Otsego Co. Michigan
Northeast Lower Lodging
---
Beaver Creek Resort
SNOWMOBILE RENTAL
---

Trail Report By: Kevin of Benjamin's Beaver Creek Resort,
Gaylord Trail Report:
DATE: February 5, 2016
BASE: Good
PAST 24 Hrs: Trace
CONDITION:
Trail 4 from Mancelona Rd & Old State is very bumpy. Trail 7 from Frederic to Gaylord was in good condition, it had been groomed but the snow plows also threw a lot of chunky snow onto the trail. The trails will be very busy this weekend. Trail 7 headed north towards Indian River is in good condition. Trails from Gaylord to Lewiston have been fairly bumpy. Groomers are active.
M.I. Advertisement Pricing
Reports Sponsored By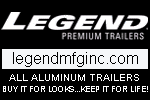 Gaylord Lodging
Beaver Creek Resort
DerMiner's Parkside Resort
Ray's Retreat Country Inn
The Ridge