Source for the North
www.fishweb.com
SLED THE WEB ™

MICHIGAN SLEDQUARTERS™

Gaylord Michigan
Snowmobile Trail Report
Snowmobile Trail Map
N.W.L. Michigan Trails
Otsego Co. Michigan
Northeast Lower Lodging
---
Beaver Creek Resort
SNOWMOBILE RENTAL
---

Buy Decals On-line

Trail Report By: Kevin of Benjamin's Beaver Creek Resort,
Gaylord Trail Report:
DATE: 6 MAR 14
BASE: 15"
PAST 24 Hrs: 0"
CONDITION: Groomed!
The groomers were out earlier this week-our rides have been very enjoyable! Check out our latest trail video on YouTube. We rode from Benjamin's Beaver Creek Resort to Frederic and over to Lovells. The only time we hit chatter bumps was on the trail back from Lovells to Gaylord and it wasn't for very long-mainly on sharp corners. Ride Safe, Friends!
M.I. Advertisement Pricing
Reports Sponsored By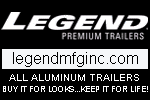 Gaylord Lodging
Beaver Creek Resort
Ray's Retreat Country Inn