Source for the North
www.fishweb.com
SLED THE WEB ™

MICHIGAN SLEDQUARTERS™

Gaylord Michigan
Snowmobile Trail Report
Snowmobile Trail Map
N.W.L. Michigan Trails
Otsego Co. Michigan
Northeast Lower Lodging
---
Beaver Creek Resort
SNOWMOBILE RENTAL
---

Trail Report By: Kevin of Benjamin's Beaver Creek Resort,
Gaylord Trail Report:
DATE: 1/11/18
BASE: Slush/Ice
PAST 24 Hrs: Rain
CONDITION: Poor
A brief thaw and rain event is here and its diminishing snow quickly. Please stay off of the trails so that we can salvage whatever base there is after this thaw. Many snowmobile clubs have been working very hard to create a durable trail base. You can protect the trails by not going out on them until temps are below freezing again. We are all looking forward to cold temps and fresh snow to renew the trails.
M.I. Advertisement Pricing
Reports Sponsored By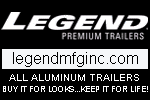 Gaylord Lodging
Beaver Creek Resort
Ray's Retreat Country Inn
The Ridge