Source for the North
www.fishweb.com
SLED THE WEB ™

MICHIGAN SLEDQUARTERS™

Gaylord Michigan
Snowmobile Trail Report
Snowmobile Trail Map
N.W.L. Michigan Trails
Otsego Co. Michigan
Northeast Lower Lodging
---
Beaver Creek Resort
SNOWMOBILE RENTAL
---

Trail Report By: Kevin of Benjamin's Beaver Creek Resort,
Gaylord Trail Report:
DATE: 2/20/17
BASE: Rideable
PAST 24 Hrs: 0"
CONDITION: Rideable
Trails are rideable. Trails will definitely be thin but that is to be expected with the continuously warm days. The weather is not looking good this week-lots of sun, mild temps and rain. On a good note, our weather can change just like that.
M.I. Advertisement Pricing
Reports Sponsored By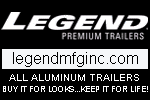 Gaylord Lodging
Beaver Creek Resort
Ray's Retreat Country Inn
The Ridge