Source for the North
www.fishweb.com
SLED THE WEB ™

MICHIGAN SLEDQUARTERS™

Gaylord Michigan
Snowmobile Trail Report
Snowmobile Trail Map
N.W.L. Michigan Trails
Otsego Co. Michigan
Northeast Lower Lodging
---
Beaver Creek Resort
SNOWMOBILE RENTAL
---

Trail Report By: Kevin of Benjamin's Beaver Creek Resort,
Gaylord Trail Report:
DATE: 1/19/17
BASE: 3-4" Ice
PAST 24 Hrs: O"
CONDITION: Fair
The warm up that we're experiencing is beginning to take its toll on the trails. There is an ice base of around 3- 4". Trails have soft areas throughout. The trails aren't showing dirt, that is just dirt being thrown from vehicles and road commission. We haven't seen many riders on the trails and the trails will remain in ok condition as long as traffic remains quiet until a new storm hits. Our weather improves greatly next week, keep your fingers crossed!
M.I. Advertisement Pricing
Reports Sponsored By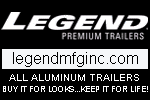 Gaylord Lodging
Beaver Creek Resort
Ray's Retreat Country Inn
The Ridge