Source for the North
www.fishweb.com
SLED THE WEB ™

MICHIGAN SLEDQUARTERS™

Gaylord Michigan
Snowmobile Trail Report
Snowmobile Trail Map
N.W.L. Michigan Trails
Otsego Co. Michigan
Northeast Lower Lodging
---
Beaver Creek Resort
SNOWMOBILE RENTAL
---


Trail Report By: Kevin of Benjamin's Beaver Creek Resort,
Gaylord Trail Report:
DATE: 8 dec 2014
BASE: 0"
PAST 24 Hrs: 0"
CONDITION: Dirt & some sporadic snow, Unusable
We've gone a couple weeks without any significant snowfall. The trails had SOME snow on them but the mild temps quickly replaced the snow with dirt. We are in line for a clipper that should drop a few inches but that is better than nothing! Let's keep *THINKING SNOW* and cold temps to keep the ground frozen!
M.I. Advertisement Pricing
Reports Sponsored By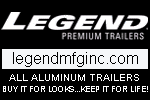 Gaylord Lodging
Beaver Creek Resort
Ray's Retreat Country Inn