Source for the North
www.fishweb.com
MICHIGAN FISHING

Fletchers Pond
North West Bay
Latitude: N45° 01.422'
Longitude: W83° 47.485'
Alpena County Michigan
Hillman Weather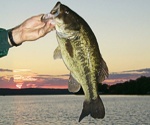 Fletcher Pond Alpena County Michigan Fishing

The north western end of Fletcher's Pond is full of trees, stumps and logs. There is lots of structure just below the surface and running north west just inside the point an old rail road grade and bridge foundation form a deeper hole. Buzz baits and spinner baits just breaking the surface with the blades is a good way to fish over the structure. A Texas rig and rubber is another way to probe the area without snagging up.
M.I. Advertisement Pricing