Source for the North
www.fishweb.com
MICHIGAN FISHING
Monocle Lake
USFS Campground
Monocle Lake Map
Chippewa County Map
Brimley Weather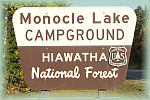 Monocle Lake, USFS Campground Chippewa County Michigan Fishing

Monocle Lake Campground offers 39 campsites in a northern hardwood, aspen, red maple, and white birch setting. Campsites are available on a first-come first-serve basis. All sites have hardened surfaces and tent pads to accommodate accessibility needs. Tables, fire rings, and lantern posts are available at each site with pressurized water and pit toilets conveniently spaced.
M.I. Advertisement Pricing