Source for the North
www.fishweb.com

Upper Tahquamenon Falls
Luce County
Eastern U.P. Lodging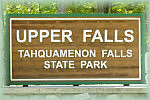 Falls Area
Satellite View
N46° 34.497'
W85° 15.447'
»
Tahquamenon Falls Map
«

Upper Tahquamenon Falls Chippewa County Michigan


The Upper Tahquamenon Falls, in Michigan's Upper Peninsula, is one of the largest waterfalls east of the Mississippi. Created by an ancient earthquake the Upper Tahquamenon Falls has a vertical drop of nearly 50 feet and is more than 200 feet wide. A maximum flow of more than 50,000 gallons per second of water has been recorded flowing over this drop.

The amber color of the water is not rust or mud. It is caused by tannin leached from the Cedar, Spruce and Hemlock in the swamps drained by the river. The extremely soft water churned by the action of the falls causes the extensive amounts of foam which has been the trademark of the Tahquamenon River since the days of early explores.
M.I. Advertisement Pricing