Source for the North
www.fishweb.com

Piers Gorge
Iron Mountain
Dickinson County Michigan
Western U.P. Lodging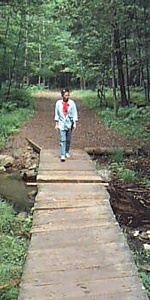 The Piers Gorge
On Menominee River
Dickinson County Michigan
The Menominee River holds the most challenging section of whitewater in all the Midwest. This high volume river plummets down a 10 foot waterfall and tumbles wildly through the canyon walls of Piers Gorge, forming powerful hydraulics and huge standing waves. Some of the souse holes are big enough to sink a bus and one earns the name Terminal Surfer. This run will get your adrenaline flowing and heart pounding. Not for everyone but for those adventuresome folks that chose to challenge themselves, this river trip will be unforgettable!

This photo above was taken at the second pier and shows
the rafters in the top left photo making their second run!

For those of you that just want to view this spectacular river and canyon there's lots of parking and a trail that runs along the canyon walls offering some outstanding views.
You can click on the map and view a photo view taken from that spot.
M.I. Advertisement Pricing