Source for the North
www.fishweb.com
MICHIGAN FISHING
Lindsley Lake Channel
Thousand Island Lake
Cisco Lakes Chain Map
Gogebic County Map
Watersmeet Weather
Lindsley Lake Entrance:
Latitude: N46° 13.298'
Longitude: W89° 25.803'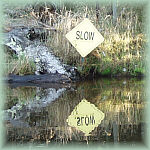 Thousand Island Lake, Lindsley Lake Channel, Gogebic County Michigan

Headed south in the channel from Cisco lake to Lindsley lake you will pass under the bridge shown above with the shark fins to your starboard side. Once past the bridge you pass a point on your port into Lindsley Lake, shown below. The GPS coordinates left are for the south channel entrance from Lindsley Lake.
M.I. Advertisement Pricing