Source for the North
www.fishweb.com

Mansfield Pioneer Church
Iron County Michigan
Western U.P. Lodging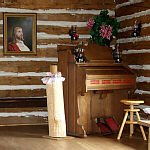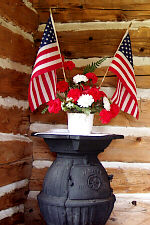 Mansfield Pioneer Church Iron County Michigan

The Mansfield Pioneer Church built in the late 1800's is site #6 on the Western Upper Peninsula Heritage Trail. Open to the public it is a wonderful example of days gone by and log structures.
In 1893, the Michigamme River broke through and flooded the underground mine where 27 miners had descended into the dark earth tunnels never to return. Just west of the Mansfield mine disaster you can visit some of the original buildings from the community, including the Pioneer Church, which was completely restored in 1987 as a landmark and reminder of the small mining settlement.
Location: 7 miles N of M-69 on Mansfield Cutoff Rd, 1 mile N on Stream Rd. Open all year. More information: 906-875-3553.
M.I. Advertisement Pricing