Mackinac Island Marina
Straits Of Mackinac
Mackinac County
Ph: 906-847-3561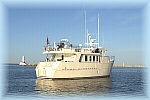 Entrance:
Lat. 45° 50' 40" N
Long. 84° 36' 42" W
Marina:
Lat. 45° 50' 57" N
Long. 84° 36' 53" W

SERVICES AVAILABLE: Radio (Ch 16 & 9)
Transient Dockage
4day max.
Water & Ice
Restrooms & Showers
Holding tank pump-out
Store 1 block
Electricity:
110V., 30 amp
210V., 50 amp





The entrance to Mackinac Island Marina is to the north side of Round Island Passage protected by breakwalls on either side, shown above. In the arial view below left point A is shown in the photo below right. The marina docks start just to the left of the Arnold Ferry Dock shown here.

Below is a view of the docks at Mackinac Island Marina with Fort Mackinac in the background.


Page by Michigan Interactive™ & Fishweb Inc.©; All rights reserved.