St Ignace Marina
Straits Of Mackinac
Mackinac County
Ph: 906-643-8131
Off Season: 906-643-8797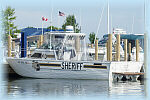 Lat. 45° 51' 58" N
Long. 84° 43' 06" W

SERVICES AVAILABLE:
Radio (Ch. 16 & 9)
Transient Dockage
Gasoline & Diesel
Water & Ice
Restrooms & Showers
Holding tank pump-out
Launch Ramp
Laundry
Marine Supplies
Public Telephone
Restaurants & Stores
Taxi on call
Post Office 1 block
Electricity:
110V., 30 amp
220V., 50 amp








You enter St Ignace Harbor between two breakwalls turning north, as you pass #2 red marker on your starboard, top left. The view leaving St Ignace harbor is shown top right.

Plenty of modern docking facilities for larger crafts with all the extras and a large gas dock.


Page by Michigan Interactive™ & Fishweb Inc.©; All rights reserved.