Source for the North
www.fishweb.com
MICHIGAN FISHING

Sundstrum Island
N46° 31.508' / W88° 06.115'
Lake Michigamme Map
Marquette County Map
Michigamme Weather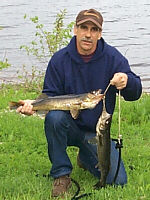 Lake Michigamme, Sundstrum Island Marquette County Michigan Fishing

I found the area around Sundstrum Island to be one of the better fishing areas on the lake. There are sharp drops leading up to flats close to shore with rocky points and underwater piles. Pike, bass, and walleye can be found here year round off the drops and around the rocks. There is a very good spot just 50 feet out from the road access shown above right. Rock outcrops and weeds are concentrated on the inside corner just west of the island.
I was using a crawler harness trolling slow in 15 feet of water when I caught the two walleye shown at the left. Sinners and crankbaits like the clown pattern Rapala seen to work well on the pike. You can also jig down the drops and rock piles for walleye or bass. Don't be afraid to cast in shallow, with the turbid water you will find them in five feet or less at times.
M.I. Advertisement Pricing