Source for the North
www.fishweb.com
MICHIGAN FISHING
Big Spring, Kitick-iti-kipi
Indian Lake Map
Schoolcraft County Map
Manistique Weather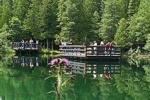 Indian Lake, Big Spring (Kitick-iti-kipi) Schoolcraft County Michigan

Early Indians called it "The Mirror of Heaven." The water bubbles up from the numerous underground springs at the rate of 16,000 gallons per minute and remains at a constant 45°F. Ancient moss covered logs and large trout can be seen through the crystal clear water.
The spring is approximately 300' by 400' across and 40 to 60 feet deep. You can see one of the large trout in the photo bottom left underneath the raft that you can ride across the spring on.
M.I. Advertisement Pricing