MY MICHIGAN GARDEN
---
---
Basil, Super Sweet Chen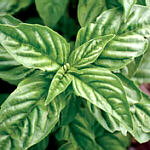 Tender Annual
Plant Height: 24-30"
Planting Depth: 1/4-1/8"
Soil Temp, Germ: 70-85°F
Days to Germ.: 6-12
Plant Spacing: 8-12"
Days to Maturity: 65-75
Full Sun
Moderate Water
GROWING DATES
Started Seeds Indoors:
March 30
Growth Begins:
April 11th
Transplanted To Garden:
May 20th
First Harvest:


Basil, Super Sweet Chen (Ocimum basilicum)

A thinner leafed, very profuse Italian large-leaf type basil. Bright green, glossy, savoyed leaves.
A slow bolting variety with a strong aroma, good flavor and very disease resistant.
Propagation: Start the basil as seeds indoors about 4 to 6 weeks before last frost danger which is normally mid May in Northern Michigan so April 1st is good. You can also plant in garden as seeds in warm soil 1 seed per inch. Keep the seed bed evenly moist during germination after which thin plants to 8 to 12 inches.
Soil & Water: Enrich soil with mature compost. Water moderately and allow for the soil surface to dry between watering. Mulch to conserve moisture and control weeds.
Harvesting: Pick leaves at any time. Harvest entire plant before first frost. Pinch off flowers to prolong harvest. Can be used fresh, dried or frozen.
| | |
| --- | --- |
| Basil June 19th | Basil July 3rd |

content property of Michigan Interactive™ ©since 1995 all rights reserved