MY MICHIGAN GARDEN
---
---
Calabrese Broccoli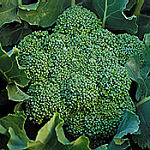 Annual
Plant Height: 18-28"
Planting Depth: ¼-½"
Soil Temp, Germ: 55-85°F
Days to Germ.: 3-10
Plant Spacing: 18"
Days to Maturity: 60-90
Full Sun
Moderate Water
GROWING DATES
Started Seeds Indoors:
March 1st
Growth Begins:
March 9
Transplanted To Garden:
May 30
First Harvest:
June 17

Broccoli, (Brassica oleracea)

Brought to the US by Italian immigrants at the turn of the century, this is a great broccoli for the home garden. Dark green plant with a blue-green head. Plant remains productive after harvest of the head, continuing to produce many side shoots until frost. For fresh use and freezing.
Propagation: In northern climates, start in the greenhouse in March. Sow seeds in flats, thinly in rows, ˝" deep. At the sign of the fifth leaf, transplant seedlings into 3-4" pots at a depth close to the crown, When mid-spring frosts have nearly ended, it is time to transplant into the garden. Harden off the seedlings by leaving them outside during the day and in a cold frame at night. Plant every 18" in rows 16-24" apart. Keep plants well cultivated. Second feedings of compost may be needed. Foliar feeding with seaweed extracts prevent aphids and enhance overall health. As a fall crop, plant directly into the garden a couple of weeks after summer solstice. Sow thinly in rows. When plants reach 4" high, thin to 15-18" apart. Cultivate and keep well watered.
Soil & Water: Broccoli will flourish in both sandy/loam or clay/loam soils, well nourished with high quality composted or aged manure. Dolomite loam will help neutralize sandy, acidic soil. Keep well watered.
Harvesting: Harvest broccoli when heads are about 2/3 of their potential size. This will encourage the plants to continue growing side buds of good quality throughout the summer.
| | |
| --- | --- |
| Broccoli June 13 | Broccoli, July 3 |

content property of Michigan Interactive™ ©since 1995 all rights reserved