MY MICHIGAN GARDEN
---
---
Brussels Sprouts, Long Island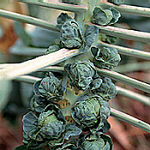 Biennial
Plant Height: 24-30"
Planting Depth: ¼-½"
Soil Temp, Germ: 55-85°F
Days to Germ.: 3-10
Plant Spacing: 18-24"
Days to Maturity: 100-115
Full Sun
Moderate Water
GROWING DATES
Started Seeds Indoors:
March 10
Growth Begins:
March 22
Transplanted To Garden:
May 30
First Harvest:


Brussels Sprouts, (Brassica oleracea)

Brussels sprouts, is a hardy, slow-growing, long-season vegetable belonging to the cabbage family. In the proper season of the year, it can be grown with fair success in most areas of the country. In mild areas, or where there is deep snow cover, the sprouts may overwinter.
Propagation: For best results, start seed indoors from March to May and transplant into the garden 4-6 weeks later. For late fall and winter harvests, sow directly into the garden, 3 seeds per foot, 4-5 months before first expected frost. During germination, keep entire seedbed Levenly moist.
Soil & Water: Brussels Sprouts will flourish in both sandy/loam or clay/loam soils, well nourished with high quality composted or aged manure. Dolomite loam will help neutralize sandy, acidic soil. Keep well-watered through maturity.
Harvesting: Harvest by cutting or twisting the compact heads off the main stalk.
| | |
| --- | --- |
| Brussels Sprouts June 13 | Brussels Sprouts July 3 |

content property of Michigan Interactive™ ©since 1995 all rights reserved