MY MICHIGAN GARDEN
---
---
Nantes Coreless Carrot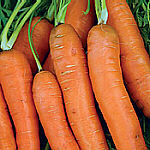 Annual
Plant root: 6-8"
Planting Depth: 3/8"
Soil Temp, Germ: 55-75°F
Days to Germ.: 6-14
Plant Spacing: 1-3"
Days to Maturity: 65-75
Full Sun
Moderate Water
GROWING DATES
Planted Seeds:
May 28
Growth Begins:
June 8
First Harvest:


Carrot, (Daucus carota var. sativus )

One of the all-around garden favorites for several reasons. They are extremely rich in Beta Carotene, a precursor to vitamin A common to most of our orange colored foods. Cooked or raw, they enhance flavor and health in our diets.
Nantes Coreless Carrot: An almost coreless carrot that is brilliant orange throughout the root. Good for fresh eating and a fine freezer as well.
Propagation: Carrots can be sown from early spring through mid-summer. Fork and rake meticulously to obtain a smooth surface for planting. Plant ½ - ¾" deep, sowing seeds thinly into rows 6-15" apart. Press soil firmly over seeds, Carrot seeds must be kept moist to germinate. They may require a thin mulch and daily watering to germinate in hot climates. Germination can take up to three weeks so be patient. Thinning is done at two intervals: once when too young to consider for eating, and again when baby carrots can be enjoyed. At this point, thin to 2-4" to obtain choice cylindrical roots. Watch for slugs, snails and grasshoppers on young plants; they will eat every last one.
Soil & Water: Carrots grow best in light, sandy, well-enriched loam that has been well composted the previous growing season, for example where corn or potatoes were grown. Roots grown with fresh fertilizers, especially manure, tend to be hairy with more soil-borne insect problems such as wire worms. Keep the soil moist... but not soggy until the seeds germinate. After germination, water as needed, cutting back a bit as the plants mature
Harvesting: Carrots can be harvested any time once the shoulders have turned orange. Roots can be left in the ground and mulched for winter storage where deep freezing does not occur. Heavily mulch the plants with woodchips or straw.
| | |
| --- | --- |
| Carrots June 13 | Carrots Junly 3 |

content property of Michigan Interactive™ ©since 1995 all rights reserved