MY MICHIGAN GARDEN
---
---
Blue Lake Bush Beans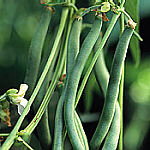 Annual
Plant Height: 15-18"
Bean Pods: 6-7"
Planting Depth: 1"
Soil Temp, Germ: 60-90°F
Days to Germ.: 6-14
Plant Spacing: 2-4"
Days to Maturity: 55-60
Full Sun
Moderate Water
GROWING DATES
Seeds Planted:
May 20
Growth Begins:
May 27
First Harvest:


Green Beans, Bush (Phaseolus vugaris)

Originating in Mexico, Central & South America. A food staple for thousands of years, beans can be enjoyed at several stages: as fresh snap beans when the seeds are just beginning to fill out and the pods are tender and tasty; as shell beans when the beans are more mature but still tender when removed from the pod; and after the seeds have fully matured and dried and are available for later use as a staple source of protein and starch. Beans are valued for their beauty, for their nutritional value, as seed for growing plants, and for their ability to fix nitrogen at their roots.
Bush Beans stand erect without support. They yield well and require the least amount of work. Green bush beans were formerly called "string beans" because fiber developed along the seams of the pods.
Blue Lake Bush Bean: this vigorous, productive bush yield extremely tender and sweet, round, stringless, green pods. It is also excellent for freezing.
Propagation: Plant directly in garden, 6 seeds per foot 1" deep in rows 18-36 inches apart when danger of frost has passed. Keep seed bed evenly moist.
Soil & Water: Beans will grow in any good garden loam. Heavily-fed, rich soils will grow larger plants and will hasten productivity for some varieties. Most beans will grow and produce well with a balanced soil fertility achieved through general fertilization with compost. It is beneficial to inoculate bean seeds with rhizobial bacteria before planting to encourage greater productivity and the fixing of nitrogen, especially if you are planting beans in a new area
Harvesting: Harvest when the pods are firm, crisp and fully elongated, but before the seed within the pod has developed significantly. Pick beans after the dew is off the plants, and they are thoroughly dry. Picking beans from wet plants can spread bean bacterial blight, a disease that seriously damages the plants. Be careful not to break the stems or branches, which are brittle on most bean varieties. The bean plant continues to form new flowers and produces more beans if pods are continually removed before the seeds mature.
| | |
| --- | --- |
| Bush Beans June 13 | Bush Beans July 3 |

content property of Michigan Interactive™ ©since 1995 all rights reserved