MY MICHIGAN GARDEN
---
---
Red Russian Kale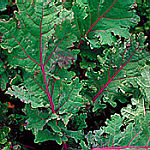 Annual
Plant Height: 20"=30"
Planting Depth: ¼"-½"
Plant Spacing: 12"-18"
Soil Temp, Germ: 55-75 °F
Days to Germ.: 3-8
Days to Maturity: 50 - 60
Full Sun/Partial Shade
Moderate Water
GROWING DATES
Planted Seeds:
June 7
Growth Begins:
June 12
First Harvest:


Kale, Red Russian , (Brassica napus)

An old favorite for its tenderness, sweet flavor, and nutritive value. An excellent red bunching Kale that retains its sweetness during warm weather and tolerates extreme cold.
Propagation: In cool climates direct seed kale as soon as the soil can be worked in the spring. Kale germinates in soils that are 45°-95°. In warm climates plant kale seeds in early spring or in late summer or early fall for growing during the winter months. Plant the seeds 1/2" deep in prepared beds. Make sure the seeds do not dry out before germination. Kale can be started indoors 6 weeks before the last frost. Start seeds in seed flats in a good growing mix. Place plants under grow lights if available
Soil & Water: Kale grows best in cool moist soil that is enriched with compost. Optimal soil temperature for growing kale is between 60°-65°. Kale does best when pH of the soil is between 5.5 and 6.5. Kale requires moderate amounts of nitrogen, phosphorus, and potassium
Harvesting: Kale can be harvested as soon as the leaves are ready to be used although the leaves are most delicious after the first frosts. Harvest kale by clipping off the outer leaves if you want the plant to keep producing. Or harvest the entire plant when there is a large rosette of leaves.
| | |
| --- | --- |
| Kale, Red Russian June 19 | Kale, Red Russian July 3 |

content property of Michigan Interactive™ ©since 1995 all rights reserved