MY MICHIGAN GARDEN
---
---
Small Sugar Pumpkin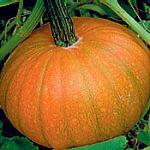 Annual
4-8' vine, 5-6# fruit
Planting Depth: ½-1"
Soil Temp, Germ: 70-90°F
Days to Germ.: 3-7
Plant Spacing: 3-4'
Days to Maturity: 100-110
Full Sun
Moderate Water
GROWING DATES
Planted Seeds:
June 1
Growth Begins:
June 6
First Harvest:


Pumpkin (Cucurbita pepo)

Pumpkin is a warm-season vegetable that can be grown throughout much of the United States. Besides being used as jack-o'-lanterns at Halloween, pumpkins are used to make pies, custard, bread, cookies and soup.
The Small Sugar Pumpkin is a heirloom from the 1800s. A classic for its high quality stringless, sweet flesh that makes delicious pies. Lightly ribbed, orange 5-6 pound fruits are also perfect for small spaces and for carving little jack-o-lanterns. Easy to grow.
Propagation: Sow 2-3 seeds every 3-4 feet in rows 6-6 feet apart when danger of frost has passed. Thin to 1 plant. Can be sown indoors 2-4 weeks before last frost and transplanted very carefully to the garden.
Soil & Water: Enrich soil heavily with mature manure. During germination keep entire seed ben evenly moist. Keep well watered through maturity allowing soil surface to dry between watering.
Harvesting: Pick when pumpkin turns orange or before the first hard frost. To keep for several months store in a cool, dry, dark place.
| | |
| --- | --- |
| Pumpkin (rabbit cage) | Pumpkin July 3rd |

content property of Michigan Interactive™ ©since 1995 all rights reserved