MY MICHIGAN GARDEN
---
---
Rosemary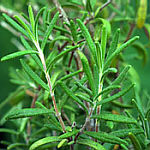 Perennial
Plant Height: "
Planting Depth: 1/8"
Soil Temp, Germ: 65-75°F
Days to Germ.: 21-28
Plant Spacing: 8-18"
Days to Maturity: 240
Full Sun
Moderate Water
GROWING DATES
Started Seeds Indoors:
March 1
Growth Begins:
March 27
Transplanted To Garden:
May 20
First Harvest:


Rosemary, (Rosmarinus officianlis)

This venerable herb of remembrance is an attractive, evergreen, upright shrub with blue flowers, and richly aromatic leaves. Extremely versatile since it can be used either fresh or dried with culinary, medicinal, ornamental and cosmetic applications. Much more flavor and aroma than the usual varieties grown from cuttings. Grow indoors as a container plant, or outdoors where temperatures do not drop below 10 F.
Propagation: Sow indoors 10-12 weeks before last expected frost. Plant outdoors when all danger of frost has passed.
Soil & Water: Prefers sandy, well drain soil with average to low fertility. When plant becomes established bottom water only and do not over water.
Harvesting: Pick fresh leaves for culinary use at anytime. Harvest leaves for drying just before onset of flowering.
| | |
| --- | --- |
| Rosemary 28 Days from seed indoors | Rosemary June 19 |

content property of Michigan Interactive™ ©since 1995 all rights reserved