MY MICHIGAN GARDEN
---
---
Acorn Squash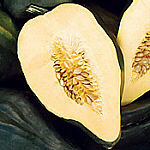 Annual
Plant Height: "
squash: 3-4#
Planting Depth: 1"
Soil Temp, Germ: °F
Days to Germ.: 3-10
Plant Spacing: 5-6'
Days to Maturity: 85-95
Full Sun
Moderate Water
GROWING DATES
Seeds Planted:
May 25
Growth Begins:
June 13
First Harvest:


Winter Squash (Cucurbita pepo)

Winter squash is a warm-season vegetable that can be grown in most of the country. It differs from summer squash in that it is harvested and eaten in the mature fruit stage, when the seeds within have matured fully and the skin has hardened into a tough rind. When ripened to this stage, fruits of most varieties can be stored for use throughout the winter.
Acorn Winter Squash has high-yielding vines producing deep-green, deeply ribbed fruits that turn orange when stored. Moderately sweet, dry, fine-flavored squash is exquisite baked.
Propagation: Do not plant until all danger of frost is past and soil is thoroughly warmed. The vining types of squash require at least 50 to 100 square feet per hill. Plant seeds one inch deep (four or five seeds per hill). Allow 5 to 6 feet between hills. When the young plants are well-established, thin each hill to the best two or three plants. Allow 7 to 12 feet between rows. Plant semi-vining varieties one inch deep (four or five seeds per hill) and thin to the best two plants per hill. Allow 8 feet between rows.
Squash plants should be kept free from weeds by hoeing and shallow cultivation. Irrigate if an extended dry period occurs in early summer. Squash requires minimal care after the vines cover the ground. Bees are necessary for pollinating squash and pumpkins and are killed by insecticides. If insecticides are used, they should be applied in late afternoon or early evening after the bees stop visiting blossoms for the day.
Soil & Water: Add a fresh layer of rich compost to the top soil, then till or spade the bed to loosen the soil and work in the compost. Keep seed beds evenly moist.
Harvesting: Winter squash can be harvested whenever the fruits have turned a deep, solid color and the rind is hard. Harvest the main part of the crop in September or October, before heavy frosts hit your area. Cut squash from the vines carefully, leaving two inches of stem attached if possible. Store in a dry building where the temperature is between 50 and 55°F. For prolonged storage, do not pile squash more than two fruits deep. It is preferable, where space allows, to place the fruits in a single layer so that they do not touch each other. This arrangement minimizes the potential spread of rots.
| | |
| --- | --- |
| Acorn Squash June 13 | Acorn Squash July 3 |

content property of Michigan Interactive™ ©since 1995 all rights reserved