Source for the North
www.fishweb.com
MICHIGAN FISHING

Au Train River Basin
Johnson Creek
Alger County
Au Train Weather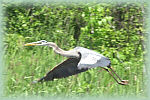 Johnson Creek runs into the Au Train River Basin on the west shore about ½ mile south of the state forest campground. You can get up the creek a few hundred yards and if your very quiet you can view the water fowl activity around you. Sandhill Cranes are a common sight.
M.I. Advertisement Pricing