Source for the North
www.fishweb.com

Pictured Rocks
National Lakeshore
Au Sable Point Lighthouse
N46° 40.40'
W86° 08.32'
Alger Co. MI.


Au Sable Point is the northern
most Point of the Pictured
Rocks National Lakeshore.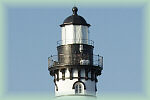 Au Sable Point lighthouse was built to help navigate sailors in their dreaded journey, along the eighty miles of dark shoreline that stretch from Grand Island Lighthouse to the famed light on Whitefish Point.
An eighty-seven foot brick tower was built on a rise, placing the light about 107 feet above the lake service. The attached, two-story brick keeper's dwelling was spacious, but also one of the most remote mainland stations in America.
In 1958, the Coast Guard automated the light turning the property and buildings over to the National park Service for inclusion in Pictured Rocks National Lakeshore. The light remains active, but it's old Fresnel lens has been removed and placed in the Nautical and Maritime Museum in Grand Marais.


M.I. Advertisement Pricing