Source for the North
www.fishweb.com

Pictured Rocks
National Lakeshore
East Grand Island
N46° 28.49'
W86° 36.44'
Alger Co. MI.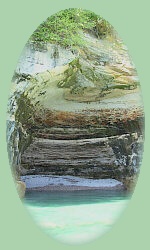 The east side of Grand Island is quite a view in the morning light with caverns, springs, formations and sparkling clear water to reflect the sights and mood.
With many underwater formations it is both beautiful and dangerous on a stormy day.


M.I. Advertisement Pricing