Source for the North
www.fishweb.com
Michigan Paddle Sports
canoe - kayak - raft - tube

Rondo Road Access Latitude: N45° 19.008'
Longitude: W84° 37.326'
Sturgeon River Map
Cheboygan County
Wolverine Weather
Northwest Lower Lodging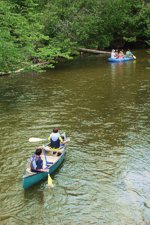 Sturgeon River - Rondo Road - Wolverine Michigan


Rondo Road is another place you can access the river. You can also stop on the right side after you pass under the bridge in a small sandy area on the northeast bank. (photo below left)

About a half a mile down stream from Rondo Road there's a nice sandbar with a nice deep hole on the opposite side. Great place for a swim and a break for a snack. Leave only foot prints please.
M.I. Advertisement Pricing