Source for the North
www.fishweb.com
Michigan Paddle Sports
canoe - kayak - raft - tube
Sturgeon River
click red on the map
for more information
Wolverine map
Cheboygan County
Wolverine Weather
Northwest Lower Lodging
Printable Map

PHOTO PAGES
White Road (north)
White Road (south)
Railroad Bridge
Rondo Road
Haakwood S.F.C.G
The Meadows
Wolverine Park
Trowbridge Road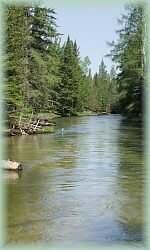 Sturgeon River Map Cheboygan County Michigan Fishing
The Sturgeon River, as well as being a Michigan "Blue Ribbon" Trout stream, has the fastest current in lower Michigan. The Sturgeon river makes for great canoeing, kayaking or a relaxing float tube trip for any experience level.
The upper Sturgeon from Wolverine south is a good area for the beginning paddler with less log jams and obstacles to deal with. The lower part of the river, north of Wolverine to Indian River, has a greater volume of water flow with many tight corners, logs and obstacles to maneuver around. I would not recommend this stretch of river for beginners. Below is a five minute video of me canoeing the northern half.

I like this river and canoe it often to get away for a few hours or the day. Cell phone reception is very good on the river for those who need to keep in touch and the many access points make it easy to control the length of your trip from a couple hours to a full day on the river. I would recommed you take your own trip down the Sturgeon River if you like a bit of a challange but not to much.

M.I. Advertisement Pricing