Source for the North
www.fishweb.com
Michigan Paddle Sports
canoe - kayak - raft - tube

South White Road
Latitude: N45° 20.312'
Longitude: W84° 37.643'
Sturgeon River Map
Cheboygan County
Indian River Weather
Northeast Lower Lodging
Northwest Lower Lodging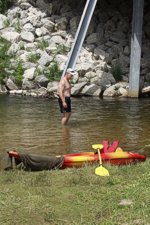 Sturgeon River - South White Road - Indian River Michigan


The bridge at the south end of White Road is another access point to the Sturgeon River. You can pull up on the bank on the southeast side of the bridge, shown top right. Here the current is slower and the water is shallow with a sandy bottom.

With privet property along most of this section there is a nice corner sand bar about 15 minutes past the bridge. Nice place to stop, swim, relax and take photos.
M.I. Advertisement Pricing