Source for the North
www.fishweb.com
Michigan Paddle Sports
canoe - kayak - raft - tube

North White Road
Latitude: N45° 22.313'
Longitude: W84° 37.451'
Sturgeon River Map
Cheboygan County
Indian River Weather
Northeast Lower Lodging
Northwest Lower Lodging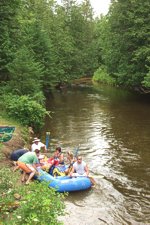 Sturgeon River - North White Road - Indian River Michigan


The bridge at the north end of White Road is a very popular spot to start a paddle trip from. It's only an hour float up to Indian River and a bit further into Burt Lake.

There is an access platform and wooden steps on the southeast side of the bridge making access to the Sturgeon River a breeze.
M.I. Advertisement Pricing