Source for the North
www.fishweb.com


Eastern Sandbar:
Latitude: N 44° 26.587'
Longitude: W 83° 27.673'
Foote Pond Map
Iosco County Map
Oscoda Michigan
Oscoda Weather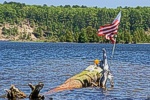 Foote Dam Pond - Sandbar - Iosco County - Oscoda MI.


The sandbar and old log pilings in the center of the east end of Foote Pond is one place you will want to fish. Spinners or jigs is the way to go for a variety of fish that will hold here.
M.I. Advertisement Pricing