Source for the North
www.fishweb.com
OSCODA MICHIGAN

Oscoda Michigan Lodging
Iosco County Michigan
Oscoda Michigan Weather
Northeast Lower MI Lodging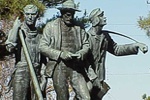 Oscoda MI Attractions:
Canoers Memorial
Cooke Dam Access
Five Channels Dam
Foote Dam Access
Foote Site Park
Foote Pond Overlook
Iargo Springs
Lumberman's Monument
Oscoda Pier and Launch
Sawmill Point Access
Westgate Overlook
Whirlpool Access
ATV - ORV - Motorcycle
Old State House / Huron Trail
Canoe - Kayak - Tubing
Au Sable River
Lake Fishing Maps
Cedar Lake
Cooke Dam Pond
Five Channels Dam Pond
Foote Dam Pond
Van Etten Lake
Oscoda Snowmobiling
Oscoda MI. Trail Map
Oscoda MI. Trail Report


Oscoda Michigan Vacation Information Activities Attractions and Information
| | |
| --- | --- |
| Welcome to Oscoda where great outdoor family adventures await you! Start your mornings with one of our breathtaking sunrises. Browse through our shops and join activities at a festival. Pack a lunch to canoe and kayak the famous Au Sable River and take a ride on a paddle wheel boat. Experience world class charter fishing on Lake Huron, or try your luck for pan fish on the Au Sable River. Our area boasts nationally ranked golf courses with superb dining. Take a hike or leisurely walk on the miles of Huron National Forest trails, enjoy the beauty of River Road Scenic Byway and discover the wildlife in our marshes. Lounge, play on miles of sugar sand beaches, fall in love with our beachfront resorts… Leave the crowds behind. The Oscoda area is your perfect Michigan Vacation Getaway… Naturally. | |
Oscoda has a reputation for walleye & salmon!
It is not uncommon for walleye fishermen to find walleye pushing 30 inches and weighing in up to 12 pounds. Fishermen can target walleye at the mouth of the pier early and late in the year, or by running cranks deep on the lake. If you are planning a trip to the Oscoda area for walleye fishing or any other type of fishing, make sure you stop by the local bait shops and spend some time talking with the locals and determine what lures are hot and what is being caught. Walleye fishing in Oscoda Michigan can be an experience of a life time. There are a variety of inner lakes, streams and the Au Sable river that attracts trout, salmon, walleye and perch. If your looking for a trophy size fish - look no further than Oscoda Michigan - Your Michigan Vacation Getaway!
Oscoda has the beautiful Au Sable River!
A world famous trout stream, the Au Sable River runs about 80 miles from Grayling, to Oscoda Michigan. Along the river's eastern flow there are six hydroelectric dams. Some of the best fishing spots in Oscoda are at the ponds and dams. Foote Pond, Cooke and Loud Dam are great for fishermen to enjoy spring, summer, fall and winter fishing for walleye, bluegill, pumpkinseed, crappie, bass, channel cat and northern pike. The ponds that exist at the dams is also a great place to bring the family and enjoy a day of swimming, or have a relaxing picnic along the pond. Portages are available at each dam, to allow recreation-seekers to canoe down the winding river.
Oscoda is Awsome In The Winter!
Oscoda is the eastern gateway to northern Michigan's snowmobile trail system. From here you can travel across the state to Traverse City or northward to the Upper Peninsula. The staging area is located on Grass Lake Road just south of River Road. In Footesite Village, six and a half miles west of the trailhead, riders will find food, beverages and fuel. There the trail divides and riders have options of heading north via Rea Road across the Au Sable River and connecting with the Alcona County trail system.
The Oscoda area is also a prime destination for cross-country skiers. Oscoda's location is ideally situated amidst a great selection of trail lengths and conditions to appeal to all levels of skiers.
M.I. Advertisement Pricing