Source for the North
www.fishweb.com

Five Channels Dam parking:
Latitude: N 44° 27.288'
Longitude: W 83° 40.590'
River Road National
Forest Scenic Byway
Au Sable River Map
Iosco County Map
Oscoda Michigan
Oscoda Weather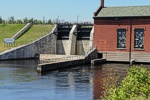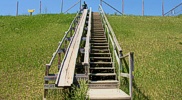 Five Channels Dam - Au Sable River - Iosco County - Oscoda MI.
River Road National Forest Scenic Byway - Michigan Interactive™

Consumers Power, now Consumers Energy, built Five Channels Dam in 1911 to 1912. It was the second of six hydroelectric plants to be built on the lower Au Sable River by the Foote brothers of Jackson, the founders of Consumers Power. During construction the company sought to provide a healthy environment for workers and their families by building a forty-five-acre camp complete with a central water supply and sewage system, icehouse, school, washroom, store and boardinghouse. Camp buildings were moved to the next site, Loud Dam, as the plant neared completion in 1912.

The dam creates a small impoundment which has enhanced fishing, sailing, and boating along the Au Sable River. Recreation facilities include boat access to Five Channels Pond and a tailwater fishing site below the dam and canoe / kayak portage slide.
M.I. Advertisement Pricing