Source for the North
www.fishweb.com

Foote Site Park ramp:
Latitude: N 44° 25.925'
Longitude: W 83° 27.091'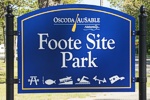 River Road National
Forest Scenic Byway
Au Sable River Map
Iosco County Map
Oscoda Michigan
Oscoda Weather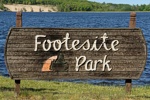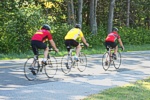 Foote Site Park - Au Sable River - Iosco County - Oscoda MI.
River Road National Forest Scenic Byway - Michigan Interactive™

Foote Site Park is located on River Road National Scenic Byway and has a beach and boat Ramp. The site is popular among birders as the Trumpeter Swan nests in shallow water here on the majestic Au Sable River. The Au Sable River valley contains 19 active Bald Eagle nests.Foote Pond is also great for anglers with bass, walleye, pike and trout are some of the sought after species in these waters.

As the only public swimming beach along River Road, Footesite Park is a popular spot on hot summer days. The park has a hardened boat ramp for larger boats accessing Foote Pond. The large parking area is paved and easily accommodates vehicles pulling boat trailers. Footesite Park is also the docking area for the Au Sable River Queen.
M.I. Advertisement Pricing