Source for the North
www.fishweb.com

Cooke Dam parking:
Latitude: N 44° 26.300'
Longitude: W 83° 34.433'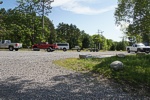 River Road National
Forest Scenic Byway
Au Sable River Map
Iosco County Map
Oscoda Michigan
Oscoda Weather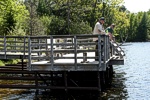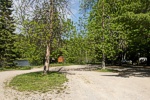 Lower Cooke Dam parking:
Latitude: N 44° 28.347'
Longitude: W 83° 34.232'


Cooke Dam - Au Sable River - Iosco County - Oscoda MI.
River Road National Forest Scenic Byway - Michigan Interactive™

Cooke Hydroelectric Dam was the first of six dams constructed on the Au Sable River and placed on the National Register of Historic Places in 1996. It operates much as it did during its first year of operation in 1912, and the overall appearance of the plant is relatively unchanged. Cooke Dam is one of four hydroelectric dams owned by Consumers Energy adjacent to River Road.

The fishing pier on Cooke Dam Pond, completed in 1999, is one of four new accessible piers constructed by Consumers Energy Company on the Au Sable River. This public fishing pier on Cooke Pond provides an easily accessible area to anyone wishing to dangle a hook in the water. It's also an inviting place to sit and enjoy the water or view the operation of Cooke Dam. There is boat access to Cooke Pond above the dam with fishing, canoe and kayak access below the dam.
M.I. Advertisement Pricing