Source for the North
www.fishweb.com

Oscoda Pier & Launch
channel entrance
Latitude: N 44° 24.388'
Longitude: W 83° 18.883'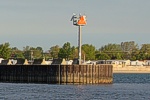 River Road National
Forest Scenic Byway
Au Sable River Map
Iosco County Map
Oscoda Michigan
Oscoda Weather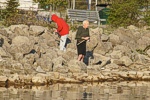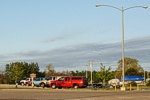 launch & parking
Latitude: N 44° 24.390'
Longitude: W 83° 19.373'



Oscoda Pier - Au Sable River - Iosco County - Oscoda MI.
River Road National Forest Scenic Byway - Michigan Interactive™

Oscoda has a reputation of walleye fishing. It is not uncommon for walleye fishermen to find walleye pushing 30 inches and weighing in up to 12 pounds. Fishermen can target walleye at the mouth of the pier early and late in the season, or by running cranks deep on the lake. Salmon is another sport fish pulled from the Lake Huron waters. It's also a great place to catch the sunrise!

The boat launch area has 5 docks with loading on each side for easy access to the channel and Lake Huron. The ramps are concrete and there is a very large lighted parking area open 24 hours. There are also toilet facilities on site and bait shops on either side of the river.
M.I. Advertisement Pricing