Source for the North
www.fishweb.com

Westgate Overlook parking:
Latitude: N 44° 27.360'
Longitude: W 83° 46.010'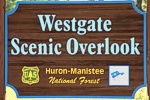 River Road National
Forest Scenic Byway
Au Sable River Map
Iosco County Map
Oscoda Michigan
Oscoda Weather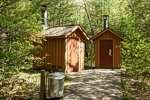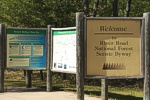 Westgate Overlook - Au Sable River - Iosco County - Oscoda MI.
River Road National Forest Scenic Byway - Michigan Interactive™

Westgate Welcome Center is the gateway to River Road when entering the Byway from the west. Along with Byway information and orientation, travelers will enjoy the panoramic views from its observation decks. This is a great location to view the river and see fall color. Wildlife abounds and visitors will have many opportunities to see the varied bird life of the area, particularly trumpeter swans and eagles.

Here you have hiking, picnicking, wildlife viewing and photographic opportunities of the mighty Au Sable River. There is a short, half hour walk on a limestone path to the Rollways Day Use area. Westgate features a kiosk that provides information on the Au Sable River and River Road National Scenic Byway.
M.I. Advertisement Pricing