Source for the North
www.fishweb.com

Foote Pond Overlook parking:
Latitude: N 44° 27.083'
Longitude: W 83° 31.012'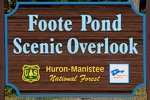 River Road National
Forest Scenic Byway
Au Sable River Map
Iosco County Map
Oscoda Michigan
Oscoda Weather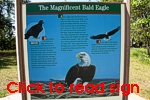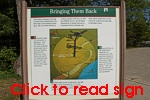 Foote Pond Overlook - Au Sable River - Iosco County - Oscoda MI.
River Road National Forest Scenic Byway - Michigan Interactive™

Foote Pond Overlook, sometimes called Eagles Nest Overlook, provides you with views of the Au Sable River and Foote Pond, created by the Foote Pond Dam. Habitat for eagles is visible from this vantage point, and visitors may have an opportunity to view eagles or other wildlife. This is also a spectacular location to view fall colors.

This is a fall-color hot spot. Hiking the steep slope and picnicking on the dune are favorite summer activities. Interpretive signs display the natural history of the bald eagle, identification tips, and how the Forest Service protects the habitat.
M.I. Advertisement Pricing