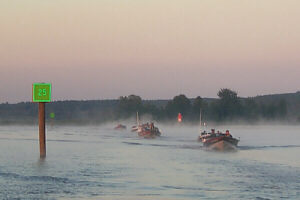 A blanket of mist threw a hush over this years top 40 MWT qualifiers as they snaked out of the Indian River in search of this years Championship title. With $10,000 and a years worth of bragging rights at stake, for the past few days the seekers of this grand prize have been as quiet as the morning fog. They would have you believe there are no fish in these lakes. Although asked often I also stopped doing reports on the lake weeks before this. It's the championship, it's suppose to be tough!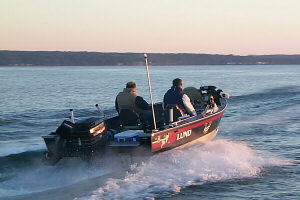 I was riding with Tournament Director Ken Shear and at 7am sharp he started the boats out into Mullett Lake. They wasted no time spreading out across the lake with their tackle stowed safely away from any prying eyes. Quickly the last boat faded out of view and settled in for a full day of competition. That's when we took a little inspection trip north across the lake and up the Cheboygan River. It was a perfect morning and a beautiful ride.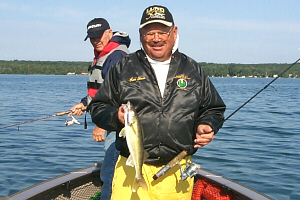 On the way back Ken wanted to work on his spoon jigging techniques and I wanted to show him there are plenty of walleye in these waters. We pulled into a spot were I knew there were schools of shad and good bottom cover in 16 foot of water. Using a silver spoon the size of the bait fish he cast out into a school and let it flutter to the bottom. The action and the spoons reflection was a close match for the flashing flutter of the prey darting through the curtains of sunlight that penetrated the clear water.
It did not take long, second cast and out came a nice 18 inch marble eye and a smile from the boss.