Snowmobiling Michigamme to Copper Harbor, 2006 / © DM Gabrish Pg. 1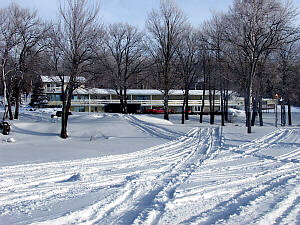 Lucky again! Every year we have taken the third week in January to do our annual snowmobile story trip. We have always had good snow, last minute some times, but we always lucked out. This year we have had more spring than winter and until the two U.P. snow storms this past week there was not much fresh snow around. Fred Hollerback, a long time riding buddy, and I pulled into Maple Ridge Resort on Lake Michigamme just past noon while Sherri, the owner, was clearing off the over night snow from the walkways.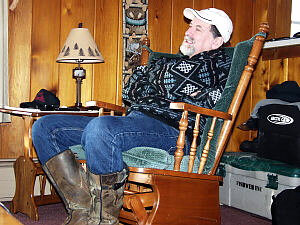 We really like the rental units at Maple Ridge. They are very roomy with everything you need in the kitchen and a large view of the lake. Dean and Dale Robinson pulled in a few hours behind us. We swapped lies awhile and slowly unpacked our gear. The two brothers from Hillman started riding with us last season at Watersmeet and were ready for another week on the U.P. trails. Both are long time riders and stay with Fred and me very well off trail and knew what to expect on the trail. We jabbered past dark until food became the mission that night.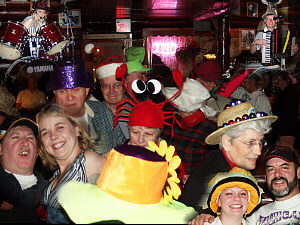 Just down the road, or across the lake, the Mt. Shasta Restaurant and Lounge had reopened since I was last here. The new owner Nancy is shown left with her grandson the Cat-In-The-Hat. It was some kind off weird hat night, with Richie Yurkovich & Polkarioty playing in the back ground. The food was great, the service friendly and the patrons were loads of fun! After dining Fred finagled a dance with every gal in the place! I was so stuffed with ribs, sneaking around taking photos was about all I was willing to do. It was a nice introduction to Michigamme that night. We grabbed our DD about midnight and slept in Sunday morning.


content property of Michigan Interactive™ ©since 1995 all rights reserved