Snowmobiling Michigamme to Copper Harbor, 2006 / © DM Gabrish Pg. 2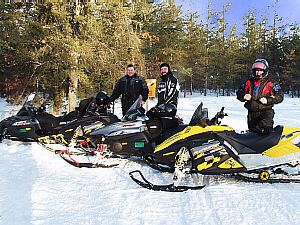 After a relaxing Sunday watching the NFL payoffs, we were up early Monday and on our way to Copper Harbor. Trail 8 from Lake Michigamme to Nestoria was a bit rough, as it follows the power line over rock cliffs. One of the guys staying at Maple Ridge stuck his sled in the swamp trying to go around a water hole on this stretch Saturday night. He had a snow plow and wrecker come in to remove it. The water was only about two foot deep and we went in and out with no trouble that morning. We took our first break at the intersection of Trail 8 & 15.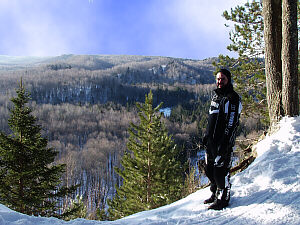 It was a beautiful mild morning with lots of sunshine. Unlike the 20 below zero days on our last trip through here. The trails had been groomed and the traffic was very low. We headed south on 15 to avoid the Baraga area where trail 15 was closed north of town. We hit Trail 109 north through the Sturgeon River Valley, one of my favorites. It is a wide forest road with just enough curves and hills to enjoy the flow. There are also some great views along the way, like the Sturgeon Valley Overlook where we took our second break of the day.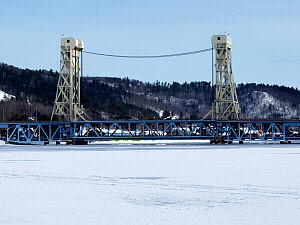 Once on Trail 3 headed north we stopped in Twin Lakes, about half way on our trip, to grab some lunch and top off our tanks. Back on trail 3 headed north we passed through a few small towns and played in a gravel pit just north of South Range climbing some of the steep hills before moving on into Houghton. There are some awsome views of the Portage River Valley as you ride on the ridge just west of town. The world's largest snowmobile bridge takes you across the river and into Hancock on the lower level. Pretty cool! We followed Trail 3 headed east out of town before turning north toward Calumet and further on.


content property of Michigan Interactive™ ©since 1995 all rights reserved