Snowmobiling Michigamme to Copper Harbor, 2006 / © DM Gabrish Pg. 3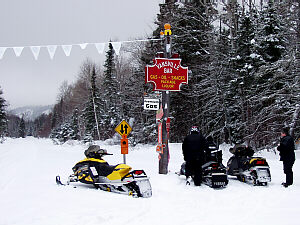 The further north we rode on Trail 3 the higher we climbed into the Keweenaw Range of Cliffs. The trail was smooth, but with the temps reaching the freezing mark they did loosen up late in the afternoon. There are plenty of stops along the way for gas and food but we had plenty of both and kept a steady pace enjoying the ride and scenery. The sleds where all running fine and I was impressed with the gas mileage on both the 600 and 800 MXZ Renegades at about 17 mph before break-in. With a 10½ gallon tank this gives you a good riding range for a two stroke.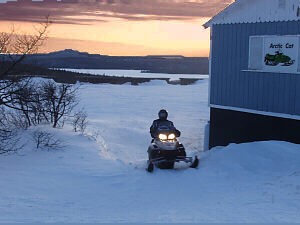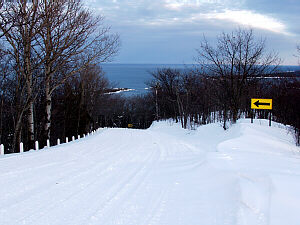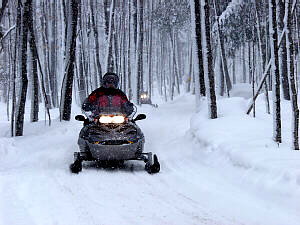 A 170 miles from Michigamme it was just about dusk when we reached the top of Brockway Nose and a great view of the area. The wind had started to scream atop the hills as we started our descent into Copper Harbor. Our first stop, after gas, was the Mariner Restaurant for dinner. I had the Jack Daniels steak and everyone agreed the food was great. After dining we checked into the Pines Resort. The unit we stayed in was nice! Two bedrooms and four beds upstairs, living room, full bath and kitchenette on the lower level. Their restaurant was open a 7:30 a.m. and we all were up and ready for breakfast by then. Good food, hot coffee and very accommodating owners made for a great start that day. We hit the trail by 8:30 a.m. just as the predicted storm started spitting freezing rain which turned to heavy snow a few miles out.


content property of Michigan Interactive™ ©since 1995 all rights reserved