Source for the North
www.FishWeb.com
MICHIGAN BOATING
MICHIGAN FISHING

DeTour Village Launch
N45° 59.670'
W83° 53.948'
Detour Passage Map
Chippewa County Map
Drummond Island Weather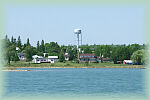 Detour Passage - DeTour Village Public Launch Chippewa County Michigan

The Village of Detour has a nice public ramp located just south of Detour Harbor. There is a large concrete ramp with a loading dock and plenty of parking. The harbor is deep enough to accommodate most any size boat.
M.I. Advertisement Pricing