Source for the North
www.fishweb.com

Cornwall Flooding
N45° 10.646'
W84° 25.566'


Pigeon River State Forest
Cornwall Flooding Map
Cheboygan County
Vanderbilt Weather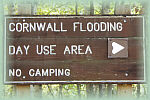 Cornwall Flooding is one of the larger lakes in the area, and it is man made. There are no motorized boats allowed, only electric motors. Cornwall Floodings is know for muskie and big pike. A grill, picnic table and vault toilets are available here.
The photo below left is the spillway for this large earth dam. It is a cement tunnel that goes straight down about 30 feet into a culvert. It then runs under the earth dam were the hiking and horse trail run. On the back side of the dam Cornwall Creek runs through the valley shown right, and on into the Pigeon River a ½ mile west.
M.I. Advertisement Pricing